| STYLE | SIZE | ITEM # | HEIGHT | WIDTH | EXT | T/O | LIGHT SOURCE | GLASS CHOICE | FINISH CHOICES |
| --- | --- | --- | --- | --- | --- | --- | --- | --- | --- |
| Top Mount | Medium | F-2961 | 20 1/2" | 9 1/4" | 10 1/2" | 6 1/2" | | Beveled | BL / SW / CP / ORB |
| Top Mount | Large | F-3961 | 22 3/4" | 10" | 10 3/4" | 4 3/4" | | Beveled | BL / SW / CP / ORB |
| Bottom Mount | Medium | F-2967 | 20 1/2" | 9 1/4" | 10 1/2" | 16" | | Beveled | BL / SW / CP / ORB |
| Bottom Mount | Large | F-3967 | 22 3/4" | 10" | 10 3/4" | 18" | | Beveled | BL / SW / CP / ORB |
| Post Mount | Medium | F-2960 | 18" | 9 1/4" | - | - | | Beveled | BL / SW / CP / ORB |
| Post Mount | Large | F-3960 | 20 3/4" | 10 | - | - | | Beveled | BL / SW / CP / ORB |
| Tri-Light | Medium | F-2960 Tri-506 | 84" | 22 3/4" | - | - | | Beveled | BL / SW / CP / ORB |
| Tri-Light | Large | F-3960 Tri-509 | 114" | 23 1/2" | - | - | | Beveled | BL / SW / CP / ORB |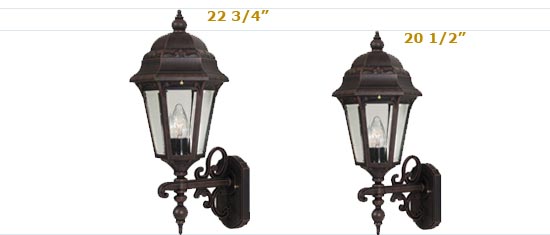 An Enduring, Upscale Design
The Astor out door light features sculptured cast aluminum arms cage, finial, and tail. Along with its brass and stainless steel components, this out door light is virtually maintenance free.
The Astor outdoor light fixture is available in a post mount, bottom mount, tri-light and top mount wall brackets.
Available in Black (BL), Swedish Siliver (SW), Copper (CP) and Oil Rubbed Bronze (ORB) finishes.