Custom Design, Plasma Cutting, Metal Fabrication, Finishing & Vinyl Application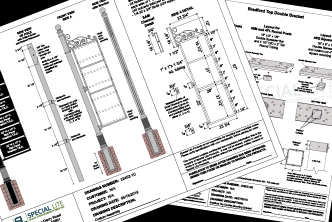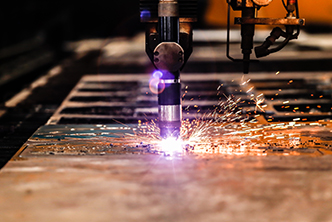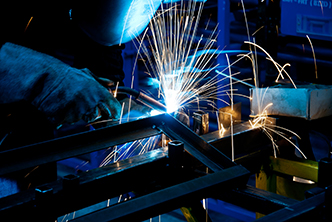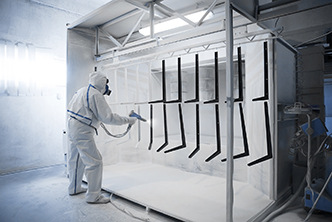 Powder Coating & Finishing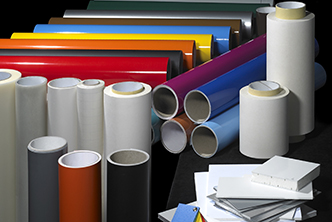 Vinyl Cutting and Application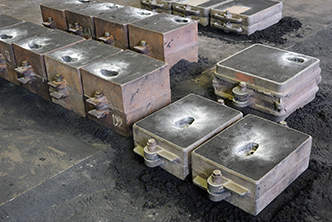 Contract and Custom Fabrication
Special Lite provides custom product design, plasma cutting and metal fabrication, powder coating and vinyl application to support any business, including essential industries such as signage, medical services, forms and surfaces, architectural products and transportation. We are recognized as a leader in providing design support and developing standard and custom products to meet industry demand. Whether your product is designed using standard components or you are looking for a custom fabricated item, our team will develop your product on time and on budget.
One Stop Shop:
• Complete in-house design department
• 18,000 sq. ft. fabrication and manufacturing facility
• Plasma / CNC capabilities to create unique and custom designs
• Complete metal fabrication and welding department
• Vinyl cutting and application for custom signs, decals, logos, and operational instructions for your product
• Powder coating and finishing
• Packaging and Crating
• Direct shipping to your processing facility or warehouse
Turn Key Product Solutions: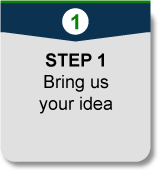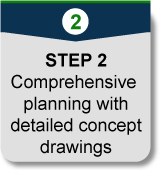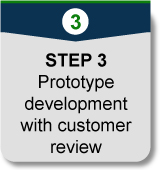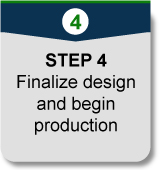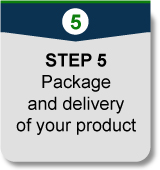 Custom Design and Fabrication Examples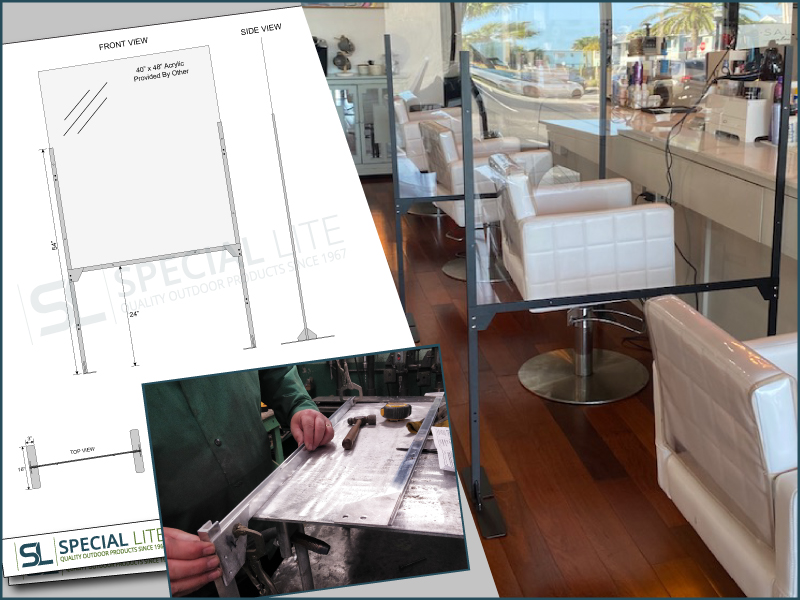 Social Distancing & Barrier Devices
As the country begins to re-open businesses across the country the safety of employees and customers is at an all time high. Special Lite can provide your business acrylic divider stands for almost any size and shape that you need. Custom fabricated aluminum supports provide a sturdy divider for hair salons, retail check out lines, restaurants and offices. Supply your own acrylic or let us provide it with your divider stand.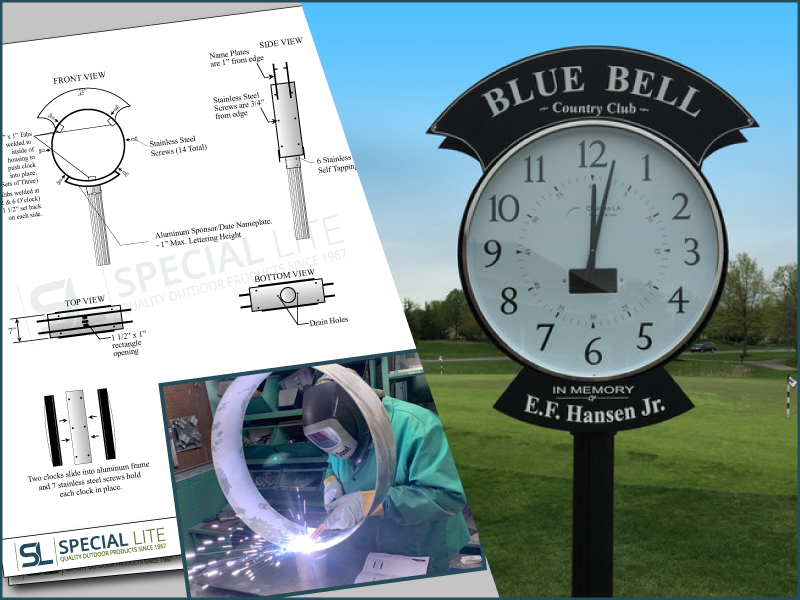 A Pittsburgh clock manufacturer came to Special Lite looking for an alternative manufacturing option to house their solar clock faces for golf course and communities as a complementing product line to their traditional cast aluminum or steel clock towers. While working hand-in-hand with the clock manufacturer, our design team developed a variety of options for customers to choose from. We provided custom order forms for them to order parts and components to meet their customers specific requests. Once an order is placed our fabrication department plasma cuts the clock frame, header and components. The clock frame is rolled and welded, then powder coated to match the post and base.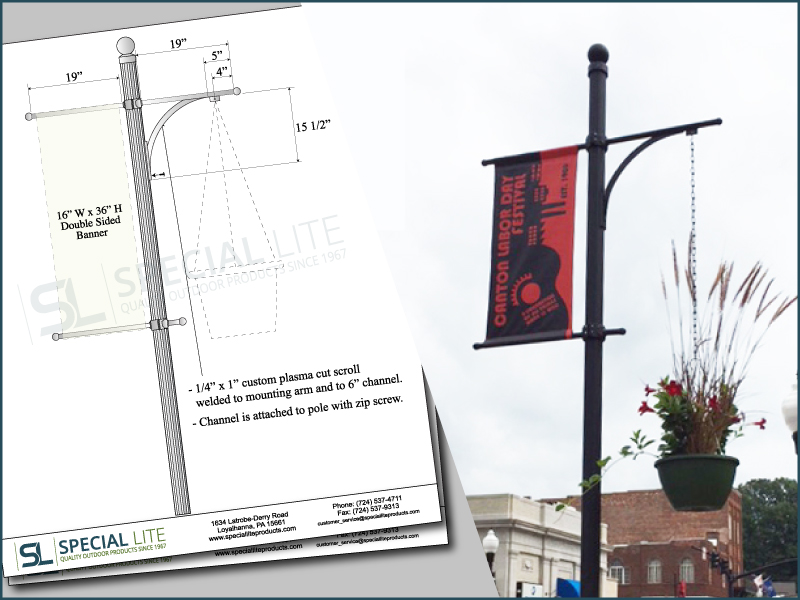 Hanging Basket Mounting Arm
Looking to promote community events and enhance the city's streetscape, this customer asked Special Lite to provide them decorative banner arm sign poles with brackets to hold hanging baskets. We developed a simple yet classical styled plasma cut scroll arm to connect to the mounting arm and provide structural support to hold the hanging baskets weight. The pole and components were powder coated with a textured black finish that is UV resistant and is more durable than a liquid painted finish.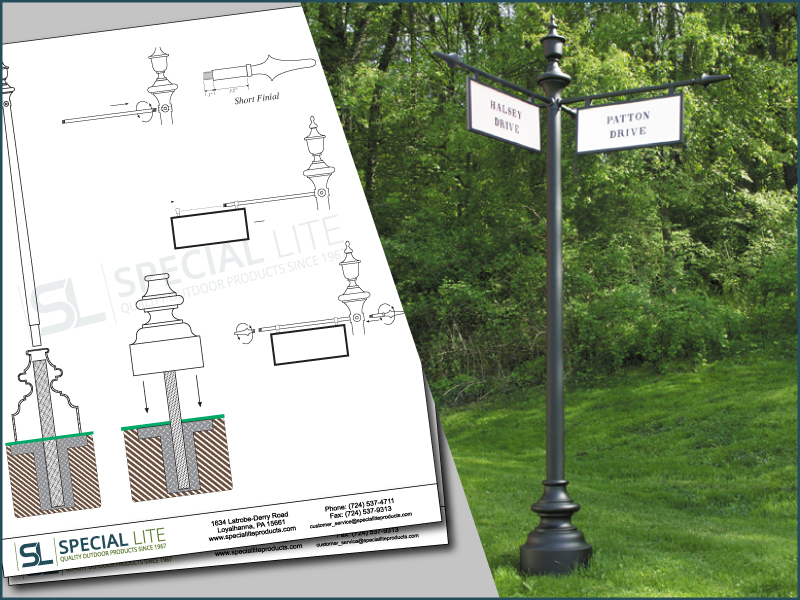 Arlington National Cemetery
Special Lite was asked to replicate existing street name sign poles that were deteriorating and needed replaced. Arlington provided us with an existing pole and we designed custom molds and produced over 30 sign poles for the cemetery.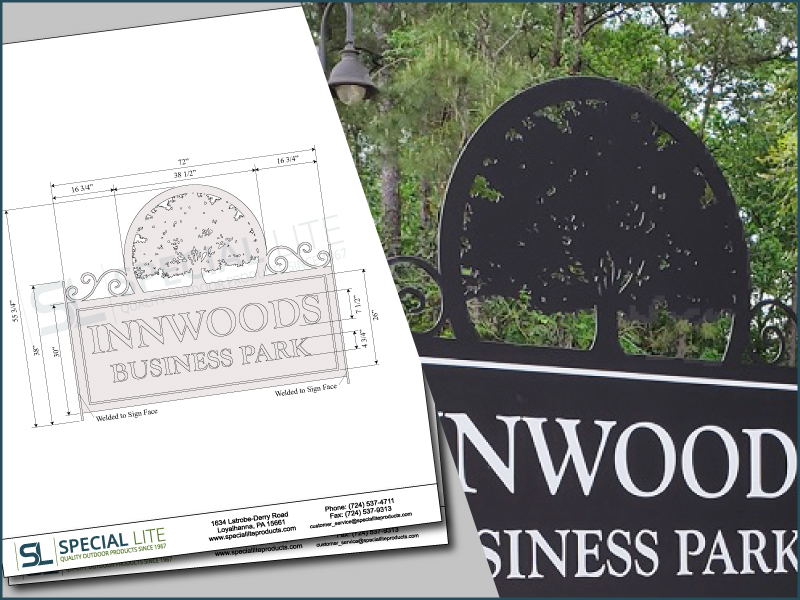 One of our distributors had a customer looking for a unique entrance sign that highlighted all the large trees throughout their business park. Special Lite worked with our distributor to design and produce this custom plasma cut aluminum sign with decorative posts and components.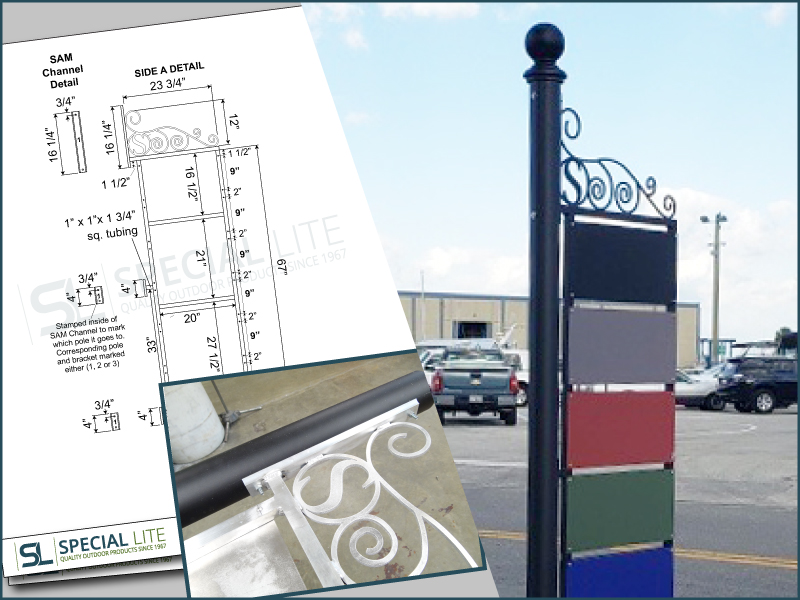 The city needed new business directory signs to match three existing sign poles. A local distributor contacted us with pictures and rough measurements of the existing sign systems. Using a 4" smooth pole and custom designed sign mounting system, we created an identical replica for their streetscape. The local distributor will supply vinyl graphics for participating businesses. View our video showing how this project was developed.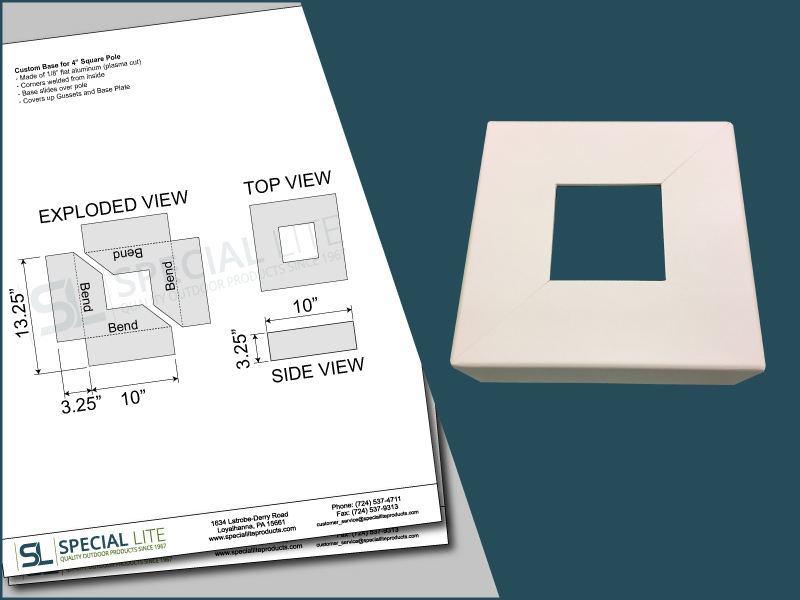 Our distributor came to us requesting a surface mount pole using our 4" x 4" fluted poles and decorative WRB3 base. At the time our square poles were not available as a surface mount option. Our design team developed a surface mount plate and gusset system to work for our square poles. The next challenge was that our WRB3 base would not fit over the plate and gussets, so we created a simple pedestal base that was plasma cut, bent and welded together so that it would slip over the surface mount plate and allow are WRB3 to sit on top and eliminate tripping hazards of the J-Bolts and gussets.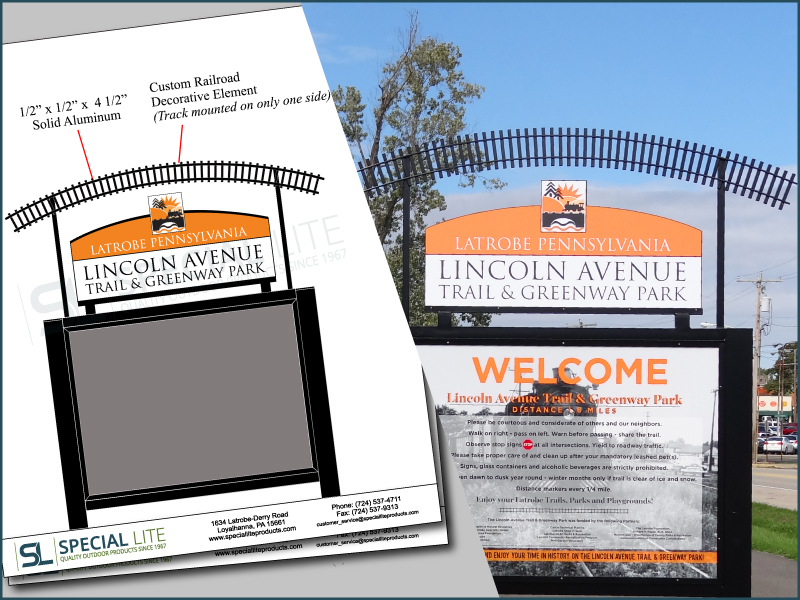 Special Lite partnered with our local sign distributor in efforts to develop a unique informational sign that captured the history of the railroad system that traveled throughout Latrobe, that has now be revitalized into a walking trail for residents and visitors to enjoy. Special lite designed and fabricated the aluminum sign system that features a carefully crafted arched railroad track. Graphics were provided by our local sign distributor.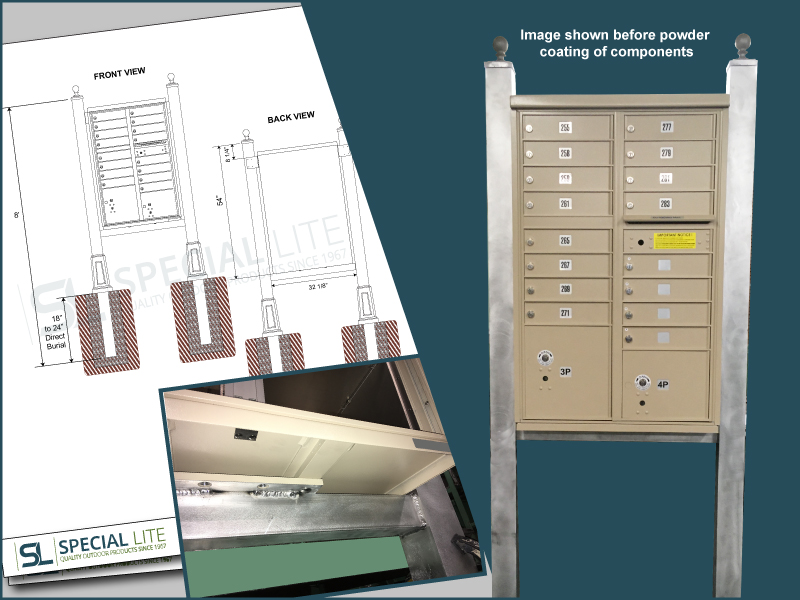 Customer looking for an alternative to the traditional pedestal base of a cluster box unit contracted Special Lite to design a two post support system. Fabricated using the existing CBU base plate with custom side supports with cast aluminum topper and bases.
A large home owner's association looking to replace and upgrade their existing community signage wanted a decorative base with their logo on both sides. The Special Lite design team developed drawings showing the overall shape and style of the base featuring their signature "V" logo. After initial designs were approved we developed a 3D computer rendering so the customer could view all angles of the base. Then we developed tooling for the cast aluminum base and now Special Lite produces hundreds of bases a month. View 3D rendering video.
A local community wanted to replace their wooden post toppers with a longer lasting and more durable aluminum topper, but keep a similar look. So Special Lite developed concept drawings based on the provided sample and after the drawings were approved we where able to make a cast molding. Then we mass produced the item to meet their need.