| STYLE | SIZE | ITEM # | HEIGHT | WIDTH | EXT | T/O | LIGHT SOURCE | GLASS CHOICE | FINISH CHOICES |
| --- | --- | --- | --- | --- | --- | --- | --- | --- | --- |
| Bottom Mount | Medium | F-2987 | 15 1/4" | 7" | 10" | 10 3/4" | | Leaded Stained Glass | BLK / SW / CP |
| Bottom Mount | Large | F-3987 | 18 3/4" | 8 3/4" | 10" | 14 3/4" | | Leaded Stained Glass | BLK / SW / CP |
| Bottom Mount | Estate | F-4987 | 24" | 10 1/2" | 12 3/4" | 16 1/4" | | Leaded Stained Glass | BLK / SW / CP |
| Flush Mount | Medium | F-2753 | 8" | 10" | - | - | | Leaded Stained Glass | BLK / SW / CP |
| Post Mount | Medium | F-2980 | 16 3/4" | 7" | - | - | | Leaded Stained Glass | BLK / SW / CP |
| Post Mount | Large | F-3980 | 20" | 8 3/4" | - | - | | Leaded Stained Glass | BLK / SW / CP |
| Post Mount | Estate | F-4980 | 24" | 10 1/2" | - | - | | Leaded Stained Glass | BLK / SW / CP |
| Tri-Light | Large | F-3980-Tri | 89" | 22 1/4" | - | - | | Leaded Stained Glass | BLK / SW / CP |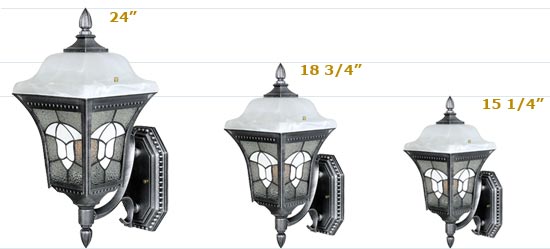 Abington Light Fixtures
An attractive stained glass and alabaster design.
The Abington series incorporates several different concepts of outdoor lighting to create one individual lighting style.
Each Abington outdoor light has an alabaster-like glass lid, leaded stained glass panels, and sculptured cast aluminum arms cage, finial, and tail. These fixtures emit a warm, attractive glow that provides ample light for any porch, deck, or street. Available in an exciting array of finishes.
In addition to post mount, bottom mount, and top mount wall brackets, Abington lights come in a flush mount configuration.
Available in Black (BL), Swedish Silver (SW) and Copper (CP) finishes.