| STYLE | SIZE | ITEM # | HEIGHT | WIDTH | EXT | T/O | LIGHT SOURCE | GLASS CHOICE | FINISH CHOICES |
| --- | --- | --- | --- | --- | --- | --- | --- | --- | --- |
| Top Mount Open Bottom | Medium | F-2832 | 17 11/16" | 10 5/8" | 12 1/4" | 4 3/4" | | Water Glass | BL / SW / CP |
| Top Mount Open Bottom | Large | F-3832 | 20" | 12 1/4" | 13 3/4" | 4 3/4" | | Water Glass | BL / SW / CP |
| Top Mount Closed Bottom | Medium | F-2831 | 19 11/16" | 10 5/8" | 12 1/4" | 4 3/4" | | Water Glass | BL / SW / CP |
| Top Mount Closed Bottom | Large | F-3831 | 23 1/2" | 12 1/4" | 13 3/4" | 4 3/4" | | Water Glass | BL / SW / CP |
| Bottom Mount | Medium | F-2837 | 20 1/2" | 10 5/8" | 12 1/4" | 16 1/2" | | Water Glass | BL / SW / CP |
| Bottom Mount | Large | F-3837 | 22" | 12 1/4" | 13 3/4" | 18" | | Water Glass | BL / SW / CP |
| Post Mount | Medium | F-2830 | 19" | 10 5/8" | - | - | | Water Glass | BL / SW / CP |
| Post Mount | Large | F-3830 | 21" | 12 1/4" | - | - | | Water Glass | BL / SW / CP |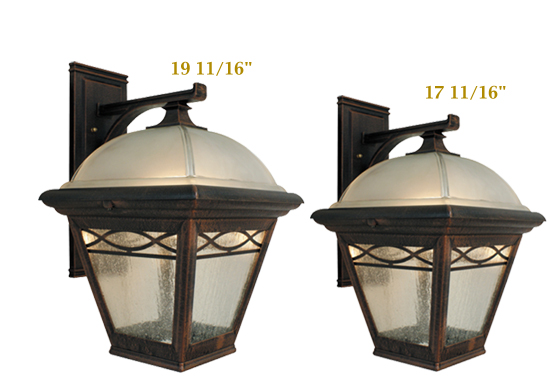 Luxurious Suburban Living
The Brentwood Series incorporates transitional style with its two-toned glass lid and large backplate. These fixtures will provide an attractive addition to your home's exterior.
The Brentwood outdoor light fixture is available in a post mount, bottom mount, and top mount wall brackets.
Available in Black (BL), Swedish Siliver (SW) and Copper (CP) finishes.