Rose Garden Light Fixtures
| STYLE | SIZE | ITEM # | HEIGHT | WIDTH | EXT | T/O | LIGHT SOURCE | GLASS CHOICE | FINISH CHOICES |
| --- | --- | --- | --- | --- | --- | --- | --- | --- | --- |
| Top Mount | Small | F-1711 | 16" | 8 1/2" | 11 1/2" | 6 3/8" | | Alabaster / Clear Seedy | BL / SW / CP / ORB |
| Top Mount | Medium | F-2711 | 19 1/2" | 10 1/2" | 12 3/4" | 6 3/8" | | Alabaster / Clear Seedy | BL / SW / CP / ORB |
| Top Mount | Large | F-3711 | 22 3/4" | 12 3/4" | 14 3/4" | 6 3/8" | | Alabaster / Clear Seedy | BL / SW / CP / ORB |
| Bottom Mount | Small | F-1717 | 16" | 8 1/2" | 11 1/2" | 9" | | Alabaster / Clear Seedy | BL / SW / CP / ORB |
| Bottom Mount | Medium | F-2717 | 19 1/2" | 10 1/2" | 12 3/4" | 12 5/8" | | Alabaster / Clear Seedy | BL / SW / CP / ORB |
| Bottom Mount | Large | F-3717 | 22 3/4" | 12 3/4" | 14 3/4" | 15 1/2" | | Alabaster / Clear Seedy | BL / SW / CP / ORB |
| Post Mount | Medium | F-2710 | 19" | 10 1/2" | - | - | | Alabaster / Clear Seedy | BL / SW / CP / ORB |
| Post Mount | Large | F-3710 | 22 1/2" | 12 3/4" | - | - | | Alabaster / Clear Seedy | BL / SW / CP / ORB |
| Tri-Light | Medium | F-2710 Tri-506 | 88" | 24" | - | - | | Alabaster / Clear Seedy | BL / SW / CP / ORB |
| Tri-Light | Large | BAF-3710 Tri-509RT | 113" | 26 3/4" | - | - | | Alabaster / Clear Seedy | BL / SW / CP / ORB |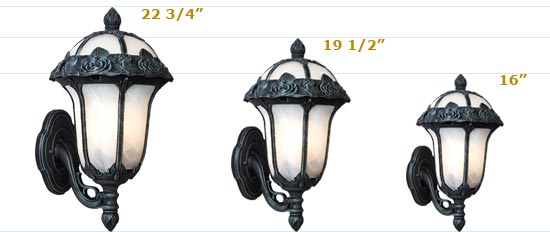 A Reflection of Natural Beauty
Rose Garden outdoor light fixtures feature raised, highly embossed rose petals and leaves for a truly stunning look. The sculpted rose and leaf patterns are cut into the cast aluminum body of the light and will not disappear with weathering.
These outdoor light fixtures are virtually maintenance free, manufactured with cast aluminum arms cage, finial, and tail, as well as brass and stainless steel components.
Available in Black (BL), Swedish Siliver (SW), Copper (CP) and Oil Rubbed Bronze (ORB) finishes.
See what customers have to say...
QUALITY MERCHANDISE.
"It is a very attractive and unique light fixture post mount. The cost is very reasonable and easy to install."