Surface Mount Lighting Posts
Special Lite Products, LLC. is your outdoor lighting specialist, with exceptional design and outstanding customer service.
Direct burial poles require a minimum of 18" of the pole be submerged into the concrete pad for proper installation. Installers must check local codes and ordinances for minimum depth required for safe installation.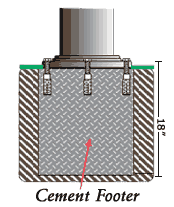 Special Lite's Posts are designed to accommodate all industry standard 3" OD post lanterns.
All of our light posts are available in all of our quality finishes.
| ITEM # | SIZE | HEIGHT | BASE |
| --- | --- | --- | --- |
| 509 | Decorative Cast Aluminum Fluted Lamp Post | 99" | 10 1/4" |
| 507 | Decorative Cast Aluminum Fluted Lamp Post | 90" | 10 1/4" |
| 506 | Decorative Cast Aluminum Lamp Post | 72" | 10 1/4" |
| 503 | Decorative Cast Aluminum Lamp Post | 42" | 10 1/4" |
| WRB-1 | Wrap Around Base for use with 3" O/D posts | 26" | 6 1/2" |