LED - Light Emitting Diodes
LED lighting is the industries most energy-efficient and environmentally friendly light source available. The primary benefits of LEDs are their reduced energy consumption, minimal lumen depreciation, longer lifetime, directionality and durability.
One of the greatest advantages of LED fixtures is their lifetime, which reduces maintenance costs. At an estimated ten-year lifetime (compared to two years for a metal halide bulb), municipalities and communities will need to change far fewer bulbs, ballasts and igniters. In fact, maintenance savings alone are sufficient to make LED fixtures cheaper on a lifescycle basis than conventional fixtures.
50,000 + hours life span
Double the life span of Metal Halide and High Pressure Sodium Bulbs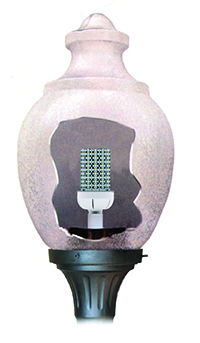 LED Bulbs
| MODEL # | BULB WATTAGE | LAMP BASE | LUMENS | COLOR TEMP | EQUIVALENT | DIMENSIONS | PHOTOMETRICS |
| --- | --- | --- | --- | --- | --- | --- | --- |
| B-127-E26 | 15 Watt | E26 Medium | 1,600 lm | 5500K | 100w INCAN. | 2 3/4" Dia. x 5" H | N/A |
| B-130-E26 | 20 Watt | E26 Medium | 1,800 lm | 5500K | 70w MH / HPS | 3 1/2" Dia. x 6 1/4" H | |
| B-135-E26 | 30 Watt | E26 Medium | 2,700 lm | 5500K | 100w MH / HPS | 3 1/2" Dia. x 6 1/4" H | N/A |
| B-140-E26 | 40 Watt | E26 Medium | 3,800 lm | 5500K | 150-175w MH / HPS | 3 1/2" Dia. x 6 1/4" H | N/A |
| B-145-E26 | 50 Watt | E26 Medium | 4,800 lm | 5500K | 200w MH / HPS | 3 1/2" Dia. x 8 5/8" H | N/A |
| B-153-E26 | 60 Watt | E26 Medium | 7,000 lm | 5500K | 250w MH / HPS | 3 1/2" Dia. x 8 5/8" H | N/A |
MOG-ADPT | Mogul to Medium Base Adapter (E26 to E39)
Advantages of LED Lighting over HID Lighting
LED is the greenest light source available because of their tremendous energy savings and the fact that they contain no hazardous materials, such as mercury.
Have greater than 50,000 hours life span.
Double the life span of Metal Halide and High Pressure Sodium bulbs.
LED lights do not attract bugs because they do not produce UV light. UV light is the reason that bugs are drawn to traditional light sources.
Fast return on investment
(Save over $200.00 per year with our 40w LED vs. 175w MH bulb.)
Additional LED Bulb Information
120 - 277 Max Voltage
Low heat output
Fit existing power systems
Built-in surge suppressors & protection